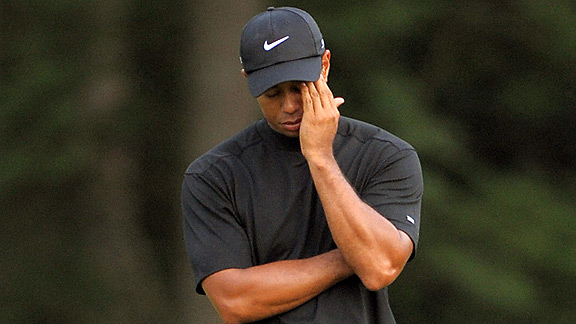 It's always sad when our heroes let us down.
It's also a reminder that they are human and make mistakes.  When someone is so good, so talented at what they do, that everything they touch turns to gold, it becomes difficult to see them as full human beings with flaws and conflicting emotions.  I'm sure we can all think of heroes who have let us down.  Andre Agassi recently confessed that he was abusing meth while competing on the professionally on the tennis circuit.
There are probably too many examples to name, and the truth is that almost everyone of our heroes would let us down if we dig deep enough.  Together, between our heroes and us the fans, we create an image that is impossible to live up to.  This does not excuse his behavior nor should it explain it away.  It's just a reality that we have deep connections to our heroes and they will eventually let us down.
Although Tiger has been able to create and foster a squeaky clean image, I have heard other things about him that made me question the truth of it.  Regardless, there is no question about his talent, his drive or his dedication to the game.  But we can't pretend to know what someone is like as a person based only on their professional results, whether it be trophies collected, money earned, albums sold, mansions bought, and the many other ways in which we judge how successful our celebrity heroes are.  Tiger's image has been carefully groomed and manicured.  He has the best advisors money can buy, and he should have those.  Someone with as much influence as Tiger should have teams of people looking out for him.  He is responsible for the rise in popularity of golf.  It is the Tiger era.  With influence comes responsibility.  With celebrity comes the power to influence huge amounts of people.  And this will have an impact.  People will remember.
Tiger will recover from this incident. We won't know what's happening behind closed doors, away from the spotlight of the media.  We can continue cheer on his victories.  But in the end, we will always know that he is human.  That he is capable of making mistakes of judgment.  And in the end that makes him more like one of us.