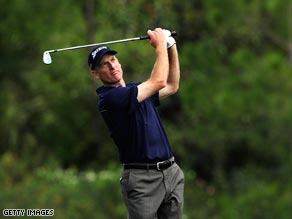 Furyk plays an approach shot to the 7th at Copperhead during his fine opening round.
After his win at the Copperhead Golf course at Innisbrook, Jim Furyk spoke to Michael Breed on Monday night's "The Golf Fix." Jim Furyk mentioned that his father has been his only coach throughout his career and that Fuyk considers himself the least mechanical player on tour.
Here are some of the things he said when asked about being a feel player.
"I let my dad worry about the golf swing, for me its a feel issue.  I worry about setup and putting myself in a good position."

"I may be the least mechanical player on tour"

"The golf swing happens in maybe a second and a half.  I'm not a connect the dots player…  It's about you've got a very small amount of time to make a golf swing…  Your mind can do some pretty magical things…  Relate the club face to a feel…  It's repeatable because it's natural.  I never broke down the swing and tried to do things that felt uncomfortable or unnatural."
What Furyk talked about is absolute gold.  It matches a lot of what I talked about in the 30 Day Challenge.  He let's his dad worry about the swing.  I think it's the same thing other feel players say.  They don't want to know the details because it doesn't help them make a repeatable swing.  Furyk went on to say that he can't think about all the pieces and retain his feel.  The conscious mind can only handle so much, when you cram it with a million swing thoughts you are going to get inconsistent results and you are going to lose feel.  It's amazing watching Furyk because he does appear to be mechanical.  He has very exacting pre-shot routines. But then you hear him talking it's all about feel.
He goes on to say that "your mind can do some pretty magical things."  That is a great quote.  By letting your mind focus on the feel, it can really do wonderful things and execute great shots.  The problem most people is that they never really learn to tap into it.  Getting away from technical positions, video, and all those swing thoughts, can really free up your creativity and allow your mind to feel the golf swing, rather than trying to "connect the dots" as Furyk puts it.
The last point I want to make is that he never did things that felt uncomfortable or unnatural.  When I look at the swings of most golfers they really do look uncomfortable.  They try to twist their bodies into certain positions because that what they think they should be doing.  The reality is that those uncomfortable feelings are there to tell you that you are not doing things right.
I've had instances where an instructor told me to get into a certain position.  The idea itself wasn't wrong, but forcing myself into the position was.  I needed to find a way to get into that position in a way that felt was natural.  Once I did that, it made perfect sense and I was able to feel it and use it effectively.  But the important point is that I found a way to get into it naturally.